Hosome Sliver Stainless Steel Bread Bagel 2 Slice Toaster
Hosome Sliver Stainless Steel Bread Bagel 2 Slice Toaster
Hosome 2 Slice Toaster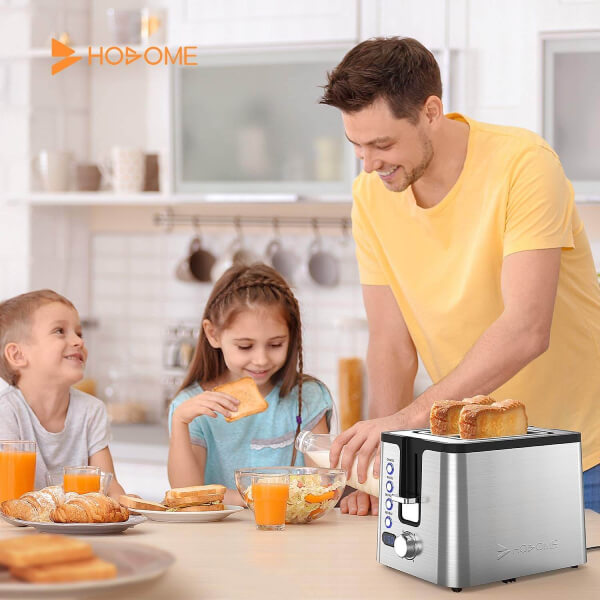 Hosome Toaster for 2 slices was designed with brushed stainless steel material, exquisite appearance, proper design in your kitchen. Come with an extra warning rack to warm up irregular size bread or croissants. 6 bread shade setting for different preferences helping to choose a batter taste. Spend a little time to finish cooking the family's breakfast.
About this item
Built-in Warming Rack - Press down the lift lever to warm up irregular size bread or croissants.

Extra Wide Slots - Measures 5.6'' in length, 1.8'' in width, suitable for various bread from waffles to artisan bread.

Multi-function Interface - REHEAT is to continue toasting if the result was not satisfactory; DEFROST is useful for frozen slices of bread; BAGEL is to only brown one side of the bread without toasting the other. (Reheat mode plus the 30s, defrost mode plus 12% time on selected gear, cancel mode to stop toasting at any time)

LED Digital Countdown Timer - Hosome 2 Slice Toaster is equipped with a blue-led digital countdown timer, displaying the time when the toast pops up.

Detail-oriented Design - The stainless steel tray is removable for easy cleaning; The cord could wrap underneath the bottom groove for better storage.
Hosome Toaster Specification
Brand: Hosome
Color: Sliver
Material: Stainless steel
2 Types Optional: 2-Slice / 4-Slice Toaster
Item Weight: 4.6 / 7.39 pounds
Wattage: 800W(2-Slice) / 1500W(4-Slice)
Dimensions (LxWxH) : 9.8 x 6.4 x 7 inches / 14.3 x 12.8 x 8.1 inches
Package Incuded
1x Hosome Toaster (Optional)
1x User Manual