Hosome Projection Alarm Clock YGH5235
Hosome Projection Alarm Clock YGH5235
Hosome Alarm Clock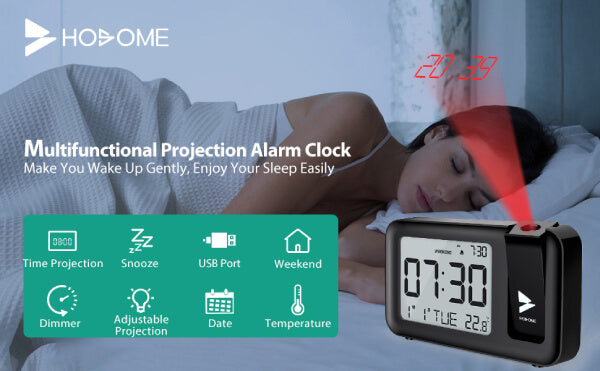 Two power supply modes make the alarm clock more flexible during daily use, you can choose the power supply mode according to the scenes to be used, memory function(15 seconds) only in AAA batteries power supply.
Feature:
Projection Time Function
With the newest design of Hosome projection alarm clock, the ultra-clear projection can let you read the time clearly in 180°degree on the 2-3m distance wall/ceiling in the dark night, no more finding cellphone, just open your eyes, enjoy the fun and convenience of the clock, easily get up.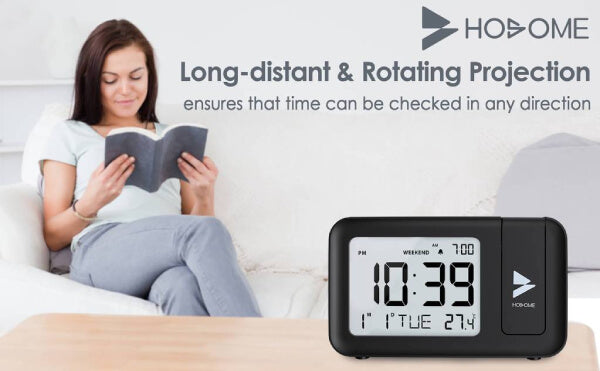 Snooze Function
You can set up 9 minutes snooze function to have another sleep before you get up, when the alarm is ringing, just press the "Snooze" button on the top of the clock, the alarm clock will ring again after 9 minutes, let you wake up with full energy!
Multifunctional Clock
Besides the alarm function, you can know the time, indoor temperature, date, week, month on this multifunctional projection clock, set 12/24H you want, master the data you need, make your life easier.


Volume Adjustment
With humanized design, there is 2 level volume adjustment for you, choose the one that suits you best, the sound would never too loud to noisy you or too light to wake you up, have a good sleep and never worry about being late for work or date, start a beautiful day with good mood.