Hosome Gooseneck Large Stainless Steel Electric Kettle BT-K09A
Hosome Gooseneck Large Stainless Steel Electric Kettle BT-K09A
Hosome Gooseneck Electric Kettle
Boil a pot of healthy water to give a family comfortable enjoyment.
For Healthy Life

Hosome gooseneck electric kettle made of 100% food-grade stainless steel for inner and bottom and other areas which touch water to ensures no chemical linings and health of the water.

6 Various Temperature
electric water kettle has designed 6 different temperatures control from 158℉to 212℉which will increase or decrease by 9℉ for one click and convenience to meet your needs.


Unique & Elegant Design
Electric kettle with the gooseneck and thin and long spout improve the experience of brewing, water comes out smoothly, no need to worry about leaking. Focus on brewing tea, coffee, milk powder, and oatmeal. Make it more ritualistic in life.

Precise Temperature Control
Famous British brand-Strix thermostat is adapted, precise to control the temperature, and ensure the water was boiled fully, auto shut off if no water inside, and dry burning-resistant protection.

Quick Heating&Keep Warm
With 1000W, it just takes 3-5 minutes for the kettle to boil. It won't take more time. Extra 60 minutes warm-keeping function can help to avoid boiling water again.
Note
Simple Button, Simple Operation
LED display shows the real-time water temperature.
Only 4 bottoms to operate the kettle which with multifunction, amazing!

Safe Lock of Lid
A lock-in the inner of the lid to strengthen the tightness between the lid and the pot body. Ensure safety when using.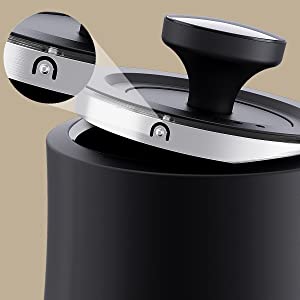 Gooseneck Spout
Precise control of water flow, no matter how fast or slow, operates freely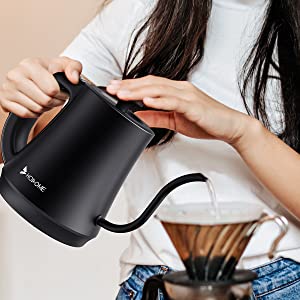 Size of Kettle
27*13.6*19.8cm.Suitable for home.