Hosome 2 Slice Stainless Steel Blue Bread Bagel Toaster
$49.99
$237.95
saving
$187.96
| /
Hosome 2 Slice Stainless Steel Blue Bread Bagel Toaster
$49.99
$237.95
saving
$187.96
| /
Hosome 2 Slice Toaster

Hosome Toaster for 2 slices was designed with brushed stainless steel material, exquisite appearance, proper design in your kitchen. Come with an extra warning rack to warm up irregular size bread or croissants. 6 bread shade setting for different preferences helping to choose a batter taste. Spend a little time to finish cooking the family's breakfast. It is the best kitchen appliance to show your Cuisinart to your family.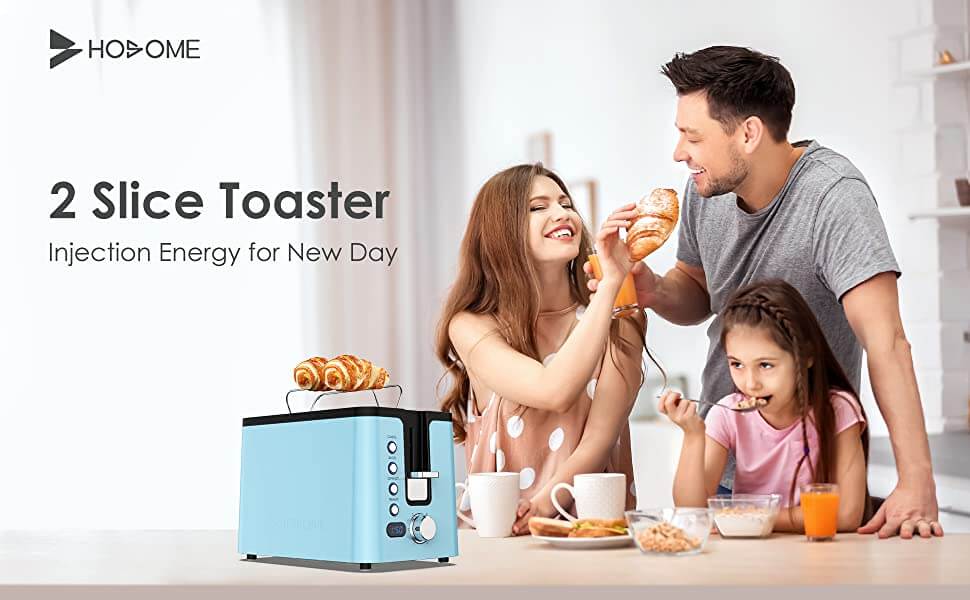 Hosome 

2-Slice Toaster Features
1. Built-in Warming Rack
Press down the lift lever to warm up irregular size bread or croissants.

2. Extra Wide Slots
Measures 5.6'' in length, 1.8'' in width, suitable for various bread from waffles to artisan bread.
3. Multi-function Interface
REHEAT is to continue toasting if the result was not satisfactory; DEFROST is useful for frozen slices of bread; BAGEL is to only brown one side of the bread without toasting the other. This compact toaster allows you to appear golden in the "3 or 4" position.(Reheat mode plus the 30s, defrost mode plus 12% time on selected gear, cancel mode to stop toasting at any time)

4. LED Digital Countdown Timer 
Hosome 2 Slice Toaster is equipped with a blue-led digital countdown timer, displaying the time when the toast pops up.
5. Detail-oriented Design
The stainless steel tray is removable for easy cleaning; The cord could wrap underneath the bottom groove for better storage.

Hosome Toaster Specification
Brand: Hosome
Material: Stainless steel
Item Weight: 4.6 pounds
Wattage: 800W(2-Slice) 
Dimensions (LxWxH) : 9.8 x 6.4 x 7 inches 
Package Incuded
1x Hosome Toaster
1x User Manual